Check out our Sosh Med
Go to Instagram
Instagram
Not enough pics of my kids and dogs on Facebook, check out my Instagram feed!
Want to know more about me?
I love God, my family, and just about all pop culture from when I was a child. I hate politics, but if you'd like to discuss 90s professional wrestling, I can talk for hours. I'm blessed to be able to have the career I do and be able to work from home with my daughters and pups. I can shoot just about anything, so let me know how I can bring your vision to life.
#squadgoals
My Dedicated Team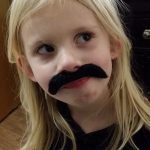 Lil
Executive Stinker Pants